Trust The Expert Ford Service At Coccia Ford, Your Preferred Dealership
---
Coccia Ford Service Center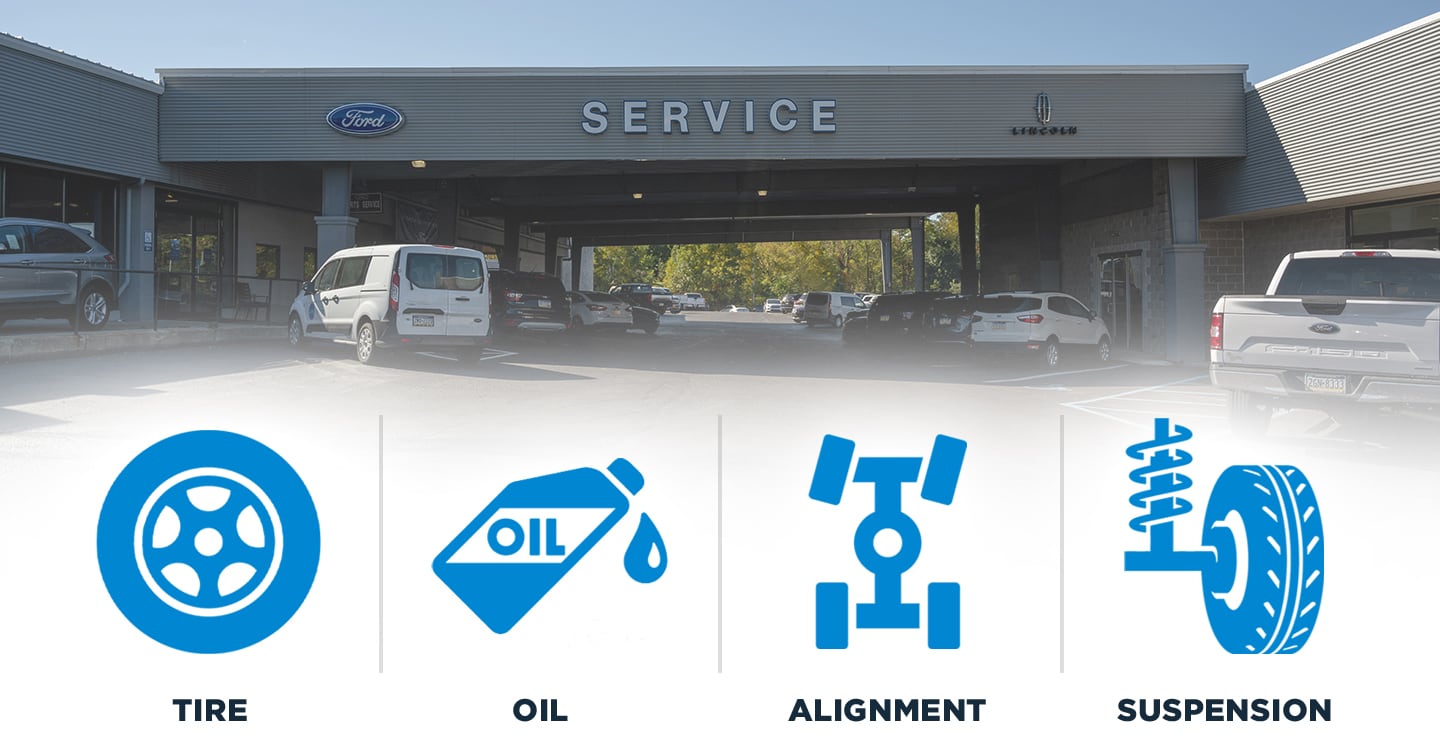 A Ford Service Department You Can Trust
Everyone knows Coccia Ford is the area's preferred Ford dealership for New and Certified Pre-Owned vehicles, but did you know that we're your headquarters for Ford service, auto repair and more?
Stop by your preferred dealership near Scranton today, and let the experts at Coccia Ford handle your next service or auto repair. Coccia Ford – trusted for over 35 years by drivers from Wilkes-Barre, Hazelton, Dallas and the surrounding areas in Pennsylvania.
---
Expert Ford Auto Repair & Service
If you need a repair done on your Ford sedan, crossover, SUV or any other vehicle, look no further than Coccia Ford in Wilkes-Barre, PA. We handle it all, from manufacturer-recommended oil change services to more complicated transmission and engine repairs. We also offer great Service Specials to help you get back on the road while saving a little.
When you choose Coccia, you can feel confident that your vehicle is in good hands. That's because all of our service techs are expertly trained to handle all of your auto repair and Ford service needs. So don't trust your maintenance or auto repair to just anyone, choose your preferred Ford dealer for all of your automotive needs.
---
Choose Coccia For Your Oil Change Service
Get your scheduled maintenance and repairs done at Coccia Ford today! Our expert techs know your Ford inside and out, so they can complete these services in an efficient manner, saving you time and money. Getting an oil change is one of the most important services you can get done. From full synthetic to standard oil, our Coccia Ford Service Center has the know how to get your Ford back on the road with new oil. Schedule your next oil change today!
---
Professional Brake Service & Repair
Visit our state-of-the-art service center today for your professional brake service or repair. Coccia Ford can handle it all, including brake pad replacement, caliper replacement, rotor replacement and more.
Not sure whether you need service or repair? Bring in your vehicle in and let our Ford-certified techs take a look. Remember, keeping your brakes properly maintained is a crucial component of safe driving, especially in severe weather.
---
Scranton's Headquarters For Battery Service
In need of a new battery? Head to your local Ford dealer, Coccia Ford, for quality battery service today!  Even if you don't need a replacement just yet, Coccia Ford can help you check your estimated battery life so you don't end up with a dead battery in your driveway heading to work, or worst on the side of the road. Visit our friendly service center and schedule your next battery service today!
---
Quality Tire Service Near Pittston
Trust the experts at Coccia Ford for all of your tire service and repair needs! With an extensive inventory of new tires, our expert techs can help you find the right ones for your vehicle. We can also do small repairs on your current tires or install new ones for you. Schedule your appointment today or stop by to get started.
---
Expert Wheel Alignment Services
Wheel alignment service is among one of the most overlooked services because misaligned wheels don't happen overnight. Instead it's a gradual issue that may sometimes be unnoticeable until you find yourself drifting more to one side or, even worse with a flat tire. Both are dangerous scenarios that not only affect performance. but fuel-efficiency too.
If your vehicle seems to be pulling to one side when driving straight, it may be time for a wheel alignment. This service helps your tires wear evenly saving you money and a potential punctured tire due to improper wearing. Don't risk it. Schedule your expert wheel alignment service with the experts at Coccia Ford today.
Frequently Asked Questions
How Often Should I Get My Oil Changed?
As a general rule of thumb, an oil change service has the lifespan of about 3,000 miles before another oil change is needed. The distance between oil change services may change between different models but all cars need their oil changed regularly to ensure proper engine function. If you think it's about time to get another oil change than there is no better place to do so then at our Coccia Ford Service Center!
What Happens After I Schedule An Appointment?
We will promptly respond to your preferred contact method.
We may ask any additional questions needed to service your car correctly.
Confirm your scheduled appointment.
Show up at your scheduled appointment and we will take care of the rest!